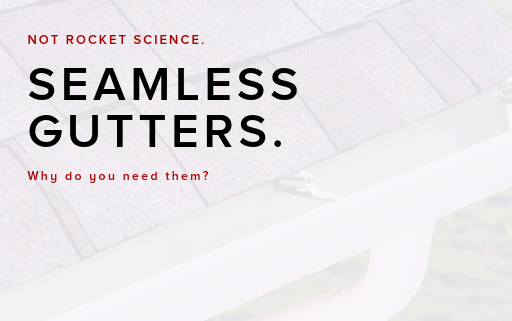 Seamless gutters, they are not rocket science, but do you actually know why you need them? The obvious answer would be to keep any water drain-off from flooding into your basement or crawl space. Did you know other damages can occur as a result of an insufficient gutter drainage system?
Without having the proper gutters installed on your home, the excess water which comes rushing off of your roof will end up somewhere. This could mean more than water coming into your basement or crawl space, it could create foundation or concrete damage, flooding, or other issues in your lawn or garden. It could even result in liability claims.
At Reeves, we have many years in the gutter installation and roofing business. We believe that a seamless gutter system is the best option for optimal protection on your home. (Note: we said seamless gutters. A pieced gutter system where the installers tie one section of the gutter into another creates a seam, and seams are prone to leak. A seam in a run of gutter can affect the way the gutters are leveled. This may cause inadequate drainage.) In most cases, leaky gutters will cause your soffit and fascia to get damp, and over time, it can begin to rot.
A seamless gutter system is a must for your complete home protection. You work hard to keep up your home, why risk foundation issues or water coming in through your soffit or facia, or worse, your basement flooding? If you look at the costs of installing a proper seamless system or foundational problems, I think you would see the long-term value in calling a gutter installer to provide you with a quote. Especially when the quote itself will not cost you a thing.
There are a number of materials that seamless gutters are made out of. These include copper, aluminum, and galvanized steel. Seamless gutters are available in many colors and styles to match up perfectly with your home or business exterior.
Learn more today by simply allowing us to provide you with a FREE QUOTE.
We would be happy to offer you a free quote for your seamless gutters or any other home project you may be considering. Call us today at 866-592-3632 or send us a message here!
https://www.callreeves.com/wp-content/uploads/2018/11/Seamless-Gutters.png
512
512
concierge
https://www.callreeves.com/wp-content/uploads/2018/11/Site-header-logo-300x138.png
concierge
2018-11-13 19:03:02
2018-11-13 19:03:02
Seamless Gutters, Not Rocket Science