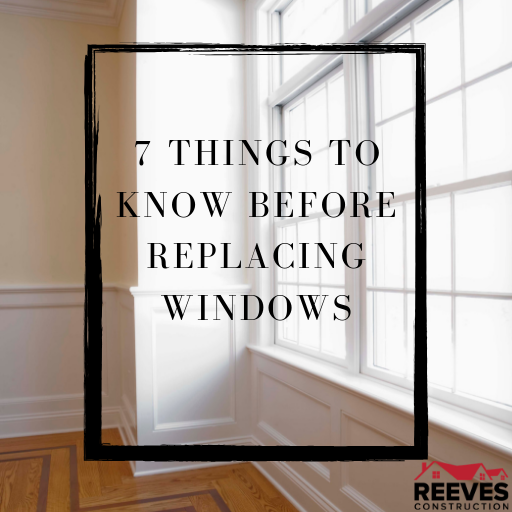 10 May

7 Things to Know Before Replacing windows

Navigating the window replacement process can feel about as daunting as purchasing a home appliance. We understand that which is why we decided to write this article — hoping it eases the process.
1. Replacing Windows
There are two installation methods to choose from when considering replacement windows. The first is called a pocket installation. In this method, only the sash of the old window is removed and the new window slides neatly into the existing frame. You are limited to choosing a window style that is the size of the existing opening, however, pocket installation is quick, only requiring about an hour per window.
The second method is called full-frame installation, where the entire window is removed, including the frame and trim, and the new window is installed in a new frame, along with new insulation and trim. This method provides greater design flexibility because the trim style, color, and sometimes even the size and shape of the opening can be changed to accommodate an entirely new style of window. There is one thing you want to keep in mind: Full-frame replacement is more time- and labor-intensive and requires work both inside and outside the home.
2. Repairing Windows
If your windows have broken glass, the sash will not stay up, or the locks are not working, you might need to make some house window repairs. Request a service visit with the company who installed your windows (if it was Reeves, you can request the visit here) and they can fix whatever parts need to be repaired.
3. The Difference Between Replacing and Repairing Windows
As mentioned above, the main difference between replacing and repairing windows is that replacing involves the whole window unit, while repairing only involves specific window parts on your existing window. Some signs your window parts might need to be replaced include warping, rusting and/or water damage. If water is entering through your window, or they are becoming foggy or hard to open or close, you might want to look into replacing your window.
Whatever your repair needs, our window specialists can work with you to help you match styles and get your window back to working how it should.
4. House Window Types
Whether you are considering new windows or replacement windows, you want to pick a type that matches your lifestyle, budget, style, and personalization options. Popular material types include wood, fiberglass and vinyl windows
5. Vinyl Replacement Windows
Consider vinyl replacement windows for an easy-to-care-for, energy-efficient product that does not require painting, staining, or refinishing. These windows also include multi-chambered frames and fully welded sashes, which add strength and durability.
6. Fiberglass Replacement Windows
For low-maintenance windows that have the quality look of painted wood, fiberglass replacement windows are another durable option that can help withstand extreme temperatures.
7. Wood Replacement Windows
Wood replacement windows offer timeless beauty, warmth, and design flexibility — all with exceptional energy efficiency.
Ready to start the window replacement process? Contact us and we will be happy to get one of our window experts out to give you a quote.