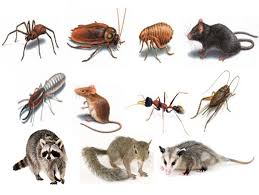 You might think it takes a large hole to let pests gain access, but it doesn't! A mouse can fit through a hole the diameter of a dime! Insects can squeeze through nearly any size crack, gap or hole. Rodents are one of the biggest problems during the chilly months. They often sneak into homes to keep warm and take up residence behind walls, in basements or attics.
HOW TO SPOT A PEST INVASION ON YOUR ROOF
You can prevent a pest invasion coming into your home through your roof by having the roof regularly inspected by a professional. A professional will be able to spot cracks and holes in the roofing materials that can allow pests access to your home. Look for damaged shingles, chewed insulation, or signs of droppings. Make sure you use your ears, too! If you hear sounds like squeaking or shuffling coming from the roof or attic space, there is a good chance you have a pest infestation already.
HOW TO PREVENT A PEST INVASION
The most important thing to prevent pests is to make sure they cannot gain access to the warm attic space inside. Pests are looking for very particular requirements when house hunting: they need access to food and water and a safe place to raise their young. If they cannot find that at your house, they will move on. Keeping the roof in good repair ensures that pests cannot make your home their home. When you spot an issue with your roof, call a roofing specialist right away.
WHAT TO DO IF YOU ALREADY HAVE PESTS
If you believe that birds, mice, wasps, or other pests have already used damaged areas of your roof to gain entry to your home, you need to act fast. You should call a roofing company to get an estimate on the repair work, but you will also need to contact a pest control company to remove the pests for you. The sooner you act, the less expensive the removal and repairs are likely to be (and the sooner your home can be pest-free once again)!
Looking for a roof repair company in the Carolinas to help repair pest damage to your roof? Reeves can help! Get in touch with our team today to keep your home safe!
https://www.callreeves.com/wp-content/uploads/2018/08/images.jpeg
195
259
concierge
https://www.callreeves.com/wp-content/uploads/2018/11/Site-header-logo-300x138.png
concierge
2018-08-23 18:00:29
2018-08-23 18:02:48
Pesky Pests