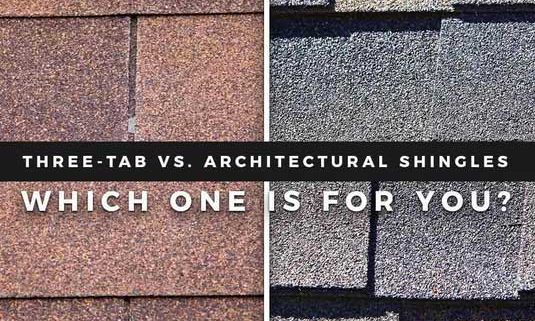 Architectural shingles are some of the best roofing materials on the market today, outside of getting into very expensive designer shingles. If you are looking to have your current roof replaced, you cannot go wrong with architectural or dimensional shingles.
If you take notice of the new construction going on in your area, you will probably notice that most builders are installing this kind of architectural roofing instead of the 3-tab shingles. The architectural roofs are a lot more pleasing atheistically than most other shingles. These roofs are superior in that they are thicker and have higher wind rating — not to mention a class A fire rating.
Here are 5 benefits of choosing an architectural shingle:
1. Architectural shingles provide up to 120 miles per hour of wind resistance. Even the highest quality three tab shingles can only offer wind resistance of 60 to 80 miles per hour.
2. Architectural shingles are manufactured to be better quality shingles. They are substantially thicker yet, they do not add too much more weight to your roof than the traditional 3-tab shingle.
3. Another advantage of architectural roofing shingles over 3-tab is installation itself. They are much easier to install, which leads to roofers spending less time on your roof.
4. Architectural roofing shingles, if installed properly and according to manufacturers specifications, should last you up to 30-40 years! That is unless you have any storm damage — such as high winds, large hail, or falling debris. The minimum warranty for architectural shingles is 30 years, but should you choose the highest quality it could last up to 75 years. Standard 3-tab shingles are expected to last for 20+ years.
5. Architectural roofing shingles can give your home a three-dimensional look. This is, atheistically, much better than the flat 3-tab roof lines on your home.
6. More colors to choose from! If you are choosing an architectural roof, you will have a much better variety of rich, warm colors to compliment your home.
You simply cannot ignore the fact that the architectural shingle is a better, safer, longer lasting option for your home. Call us today at 866-592-3632 or send us a message here to set up an appointment to go over your options and ensure your roof is in good repair!
https://www.callreeves.com/wp-content/uploads/2018/10/4.jpg
394
535
concierge
https://www.callreeves.com/wp-content/uploads/2018/11/Site-header-logo-300x138.png
concierge
2018-10-09 17:29:55
2018-10-16 17:58:43
Best Roofing Materials On The Market Today